How Does Laser Therapy Work?
What is laser therapy?
Laser therapies are medical treatments that use focused light. Unlike most light sources, light from a laser (which stands for light amplification by stimulated emission of radiation) is tuned to specific wavelengths. This allows it to be focused into powerful beams. Laser light is so intense that it can be used to shape diamonds or cut steel. In medicine, lasers allow surgeons to work at high levels of precision by focusing on a small area, damaging less of the surrounding tissue.
Cold laser therapy is a noninvasive procedure that uses light to stimulate cell regeneration and increase blood circulation. Cold laser therapy treats the surface of the skin, while hot laser treatments affect deeper tissues. Often called low-level laser therapy, cold laser therapy or Class IV laser therapy, by any name, is still a relatively new concept that is being used more recently to treat arthritis, tendon or soft tissue injuries and to promote wound healing.
Laser therapy can treat acute and chronic injuries, sprains and strains, arthritis, swelling due to back disc problems, and muscular-skeletal abnormalities. It also helps to regenerate nerve tissue after surgery. Lasers are nothing more than a beam of light that travels at a certain frequency and allows the laser to generate heat and penetrate tissue. Some Class IV or cold lasers are programmable to a range of frequencies in order to treat many different types of problems in human and pets.
How does laser therapy work?
Photons enter the tissue and are absorbed in the mitochondria and at the cell membrane. The photonic energy is converted to chemical energy within the cell, in the form of ATP. This is often referred to as photobiomodulation (PBM). Cell membrane permeability alters, then physiological changes occur. These physiological changes affect macrophages, fibroblasts, endothelial cells, mast cells, bradykinin and nerve conduction rates. The effects of Laser therapy are photochemical, not thermal.
Reported benefits include: In layman's terms, therapeutic laser works much like photosynthesis in plants. Adding photonic energy to the body, helps it grow or repair itself.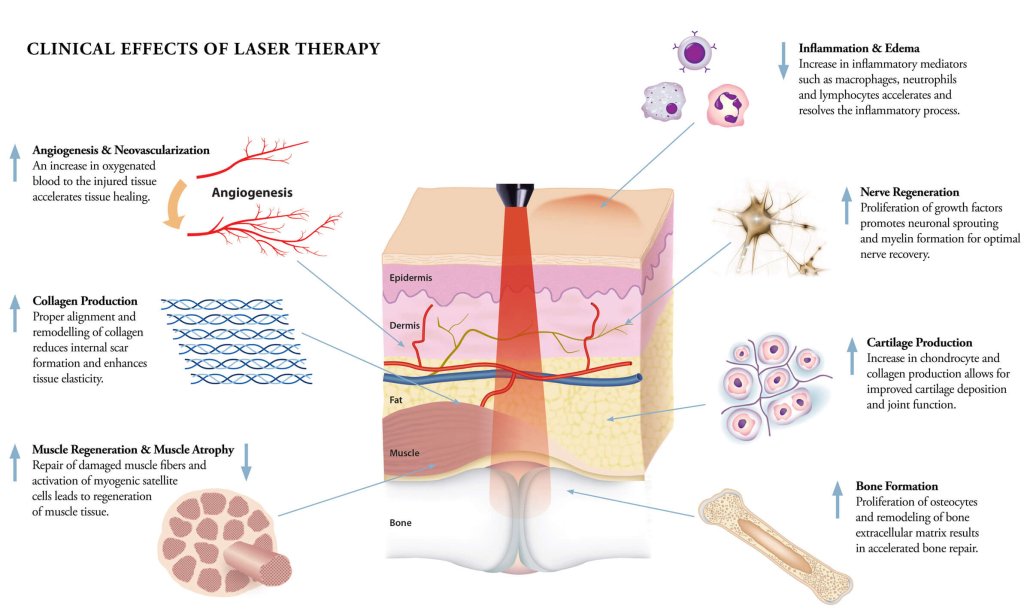 What are the benefits of laser therapy?
The central goal of laser therapy is to stimulate the cell to perform its natural functions, but at an enhanced rate. Targeted in hemoglobin and cytochrome c oxidase, the high-power diode laser could help the respiration and then in a result have a good performance therapy. Unlike many pharmacological treatments that mask pain or only address the symptoms of disease, Laser Therapy treats the underlying condition or pathology to promote healing. This means that the treatments are effective and the benefits of Laser Therapy are long-lasting.
Treatment is painless
Highly effective for many diseases and conditions
Eliminates pain
Reduces the need for pharmaceuticals
Restores normal range of motion and physical function
Easily applied
Non-invasive
Non-toxic
No known adverse effects
No drug interactions
Often makes surgical interventions unnecessary
Provides a treatment alternative for patients that have not responded to other therapies